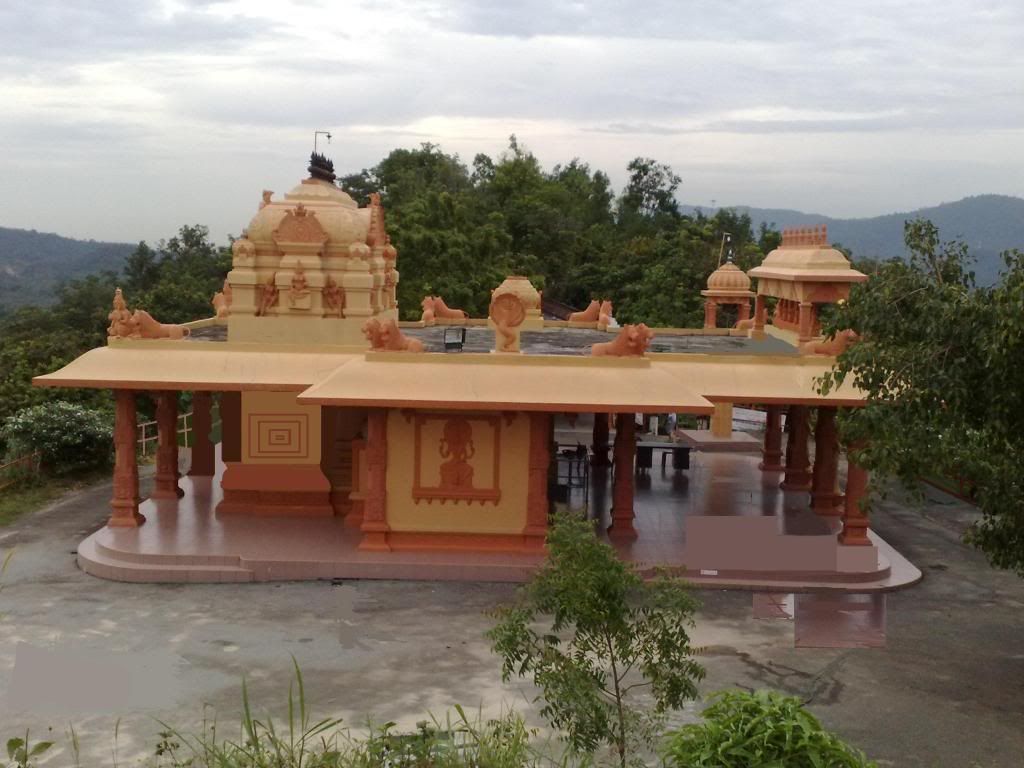 ARULMIGHU MAHA SAPTHAKANNIGA DEVI TEMPLE
well known as
KANNI KOIL
AND


NAGAAMMAH KOIL
SNAKE TEMPLE

SEREMBAN
NEGERI SEMBILAN

Seremban, Negeri Sembilan,
OFFICE ADDRESS

: 116 BUKIT TEMBOK,
KANNI KOIL ANJALI CALENDER 2013 WILL BE ON SALE AT KANNI KOIL FOR RM 5.00. PLEASE BUY YOUR ANJALI CALENDER IN KANNI KOIL AND DONATE FOR THE TEMPLE.



For further information
Please call:
Mr. Rajen - 0196209259

[DIRECTION TO THE TEMPLE]
Take the flyover after the Seremban Toll Plaza that goes to the Pusat Kualiti Alam/ Klia/ Sendayan and take a turn back to Seremban Town ['U'] turn after the Tunnel and come back towards Seremban. Turn left towards Seremban 2/ Taman Oakland and turn left as u go around the corner. The road will lead to the ARULMIGHU MAHA SAPTHAKANNIGA DEVI TEMPLE [KANNI KOIL]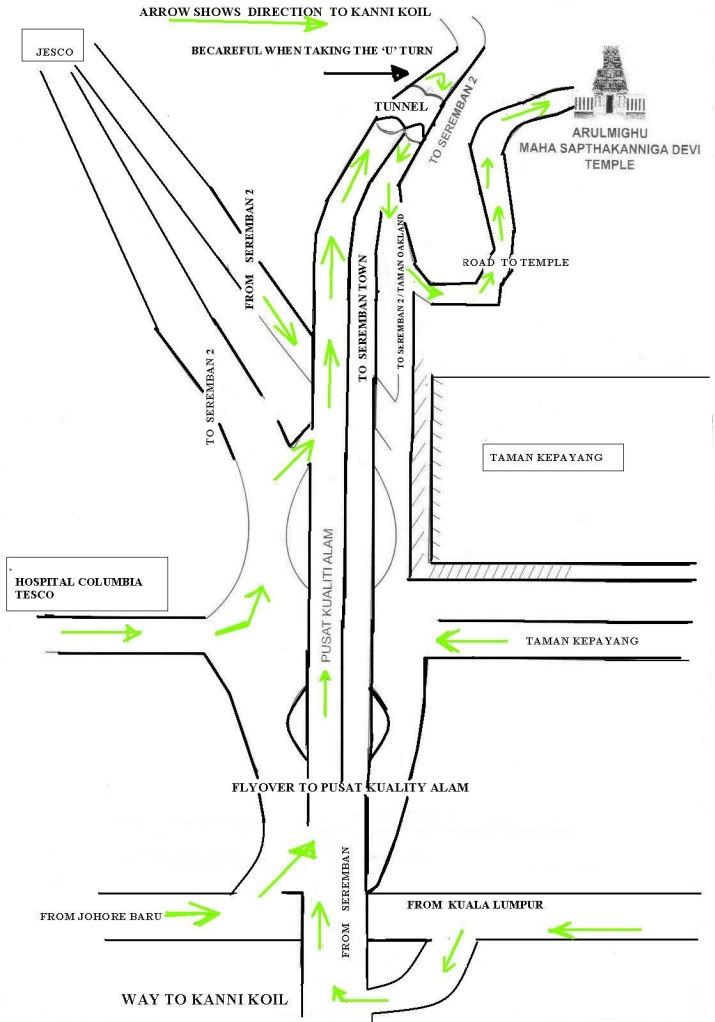 KANNI KOIL NEEDS DONATION FOR THE MAINTANANCE OF THE TEMPLE,
TO BUY THE TEMPLE LAND, PAY THE WORKERS AND OTHER EXPENSES
PLEASE KINDLY CONTRIBUTE YOUR DONATION TO THE TEMPLE.
PERSATUAN PENGANUT DEVI ARULMIGHU MAHA SAPTHAKANNIGA, by cheques or bank draft to our office address: 116 BUKIT TEMBOK,
Bank in to our current account at:
PUBLIC BANK a/c no : 3128380309.



FOR INFORMATION ON EVENTS AND OTHER THINGS, PLEASE GO TO :
Events
7 talai nagamaah
BRAMI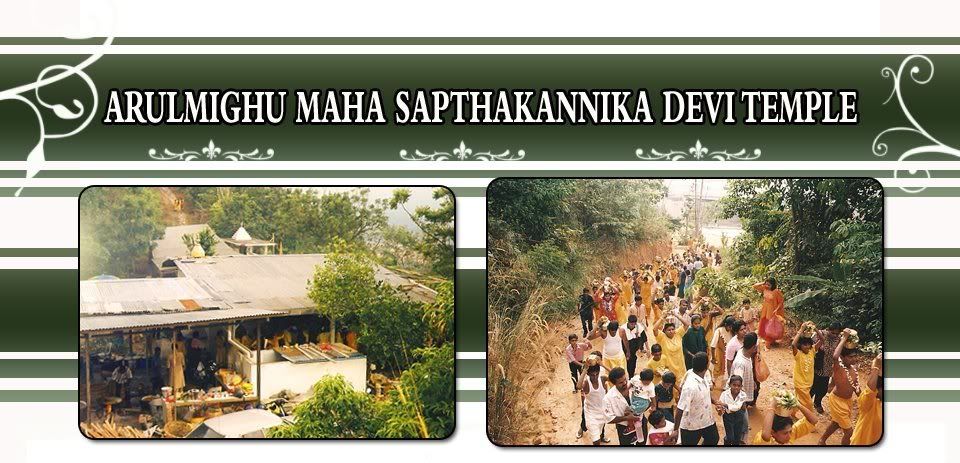 {Seremban, Kanni Koil - [Hill Temple]
History in tamil and in english below}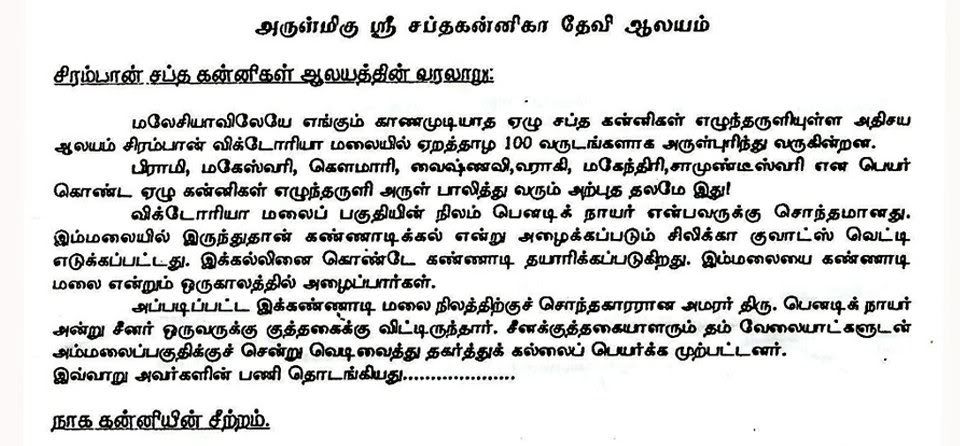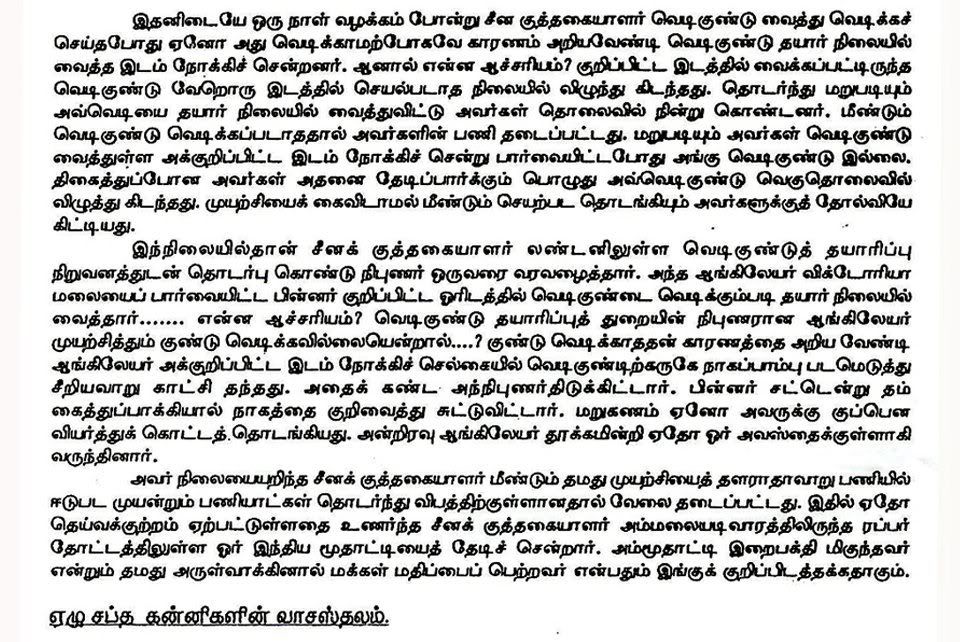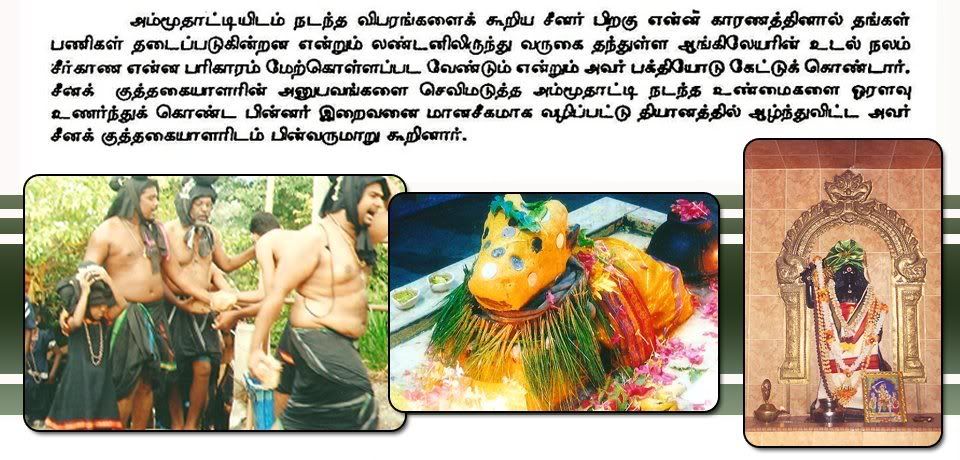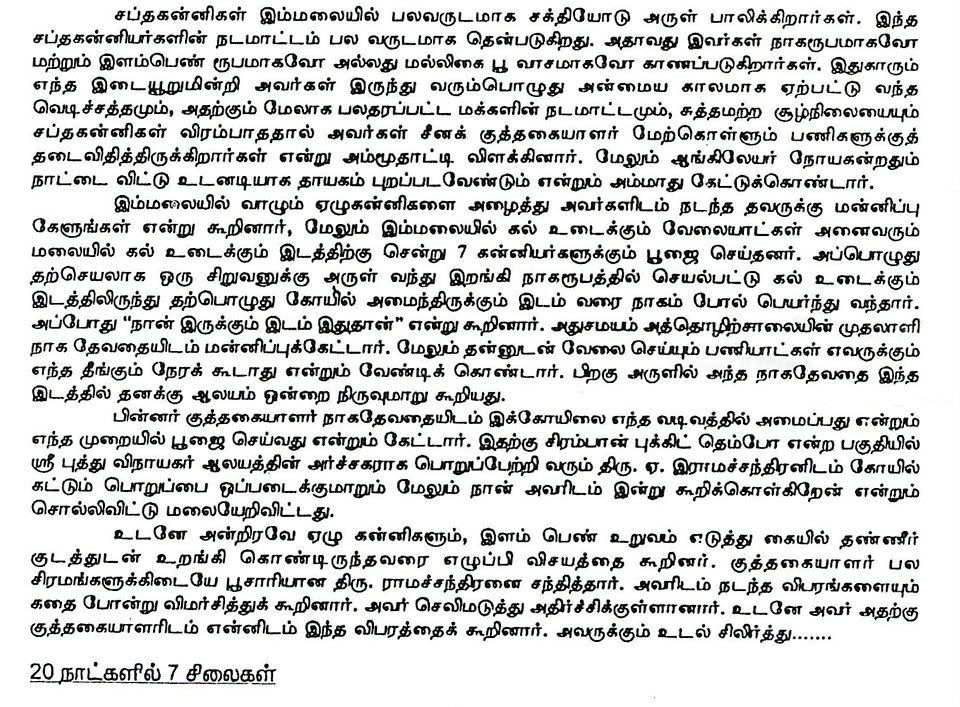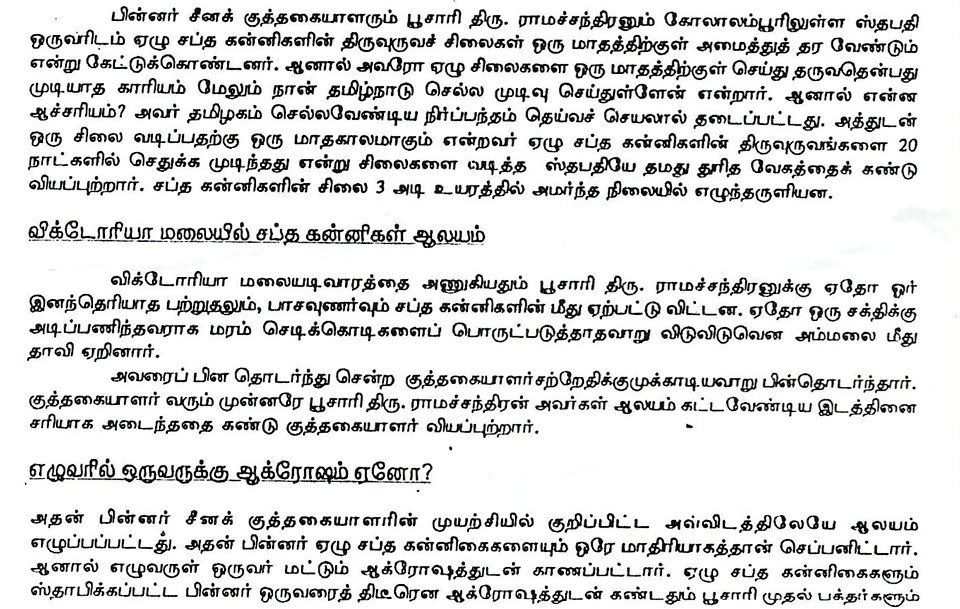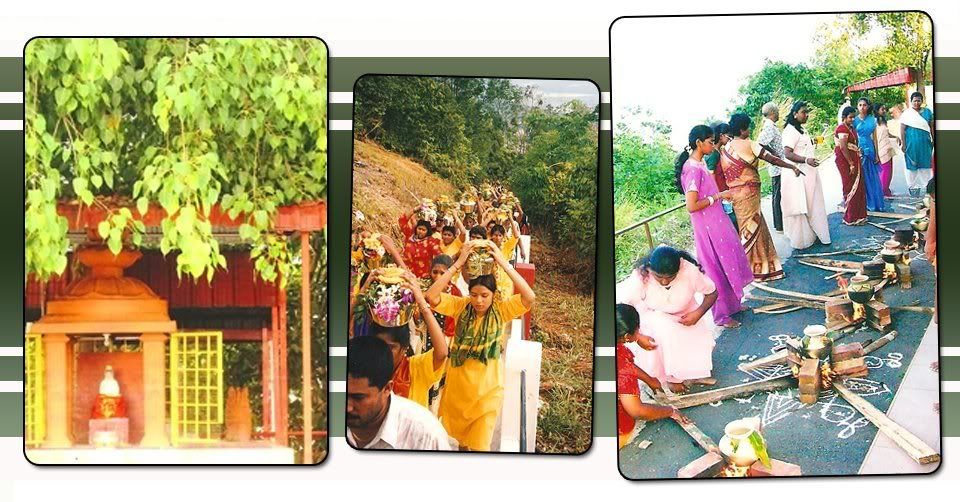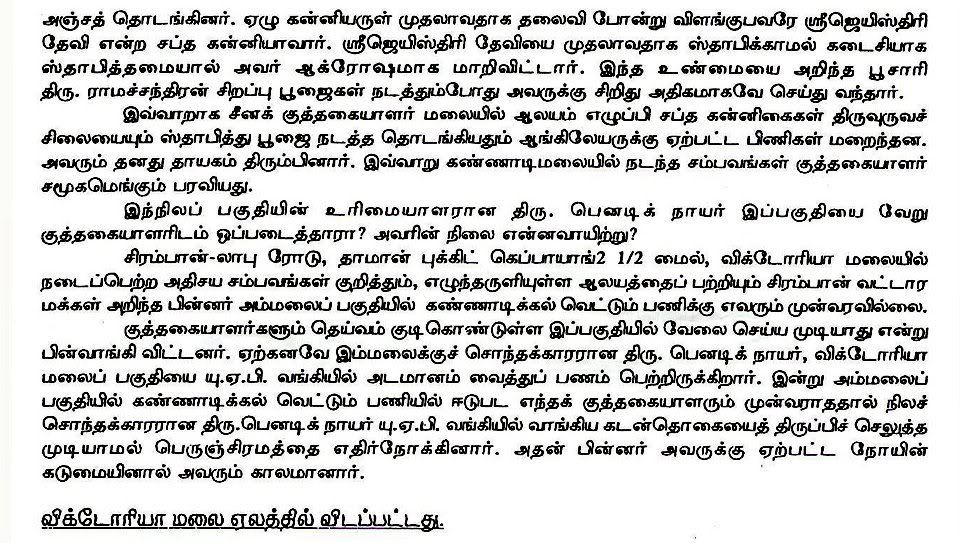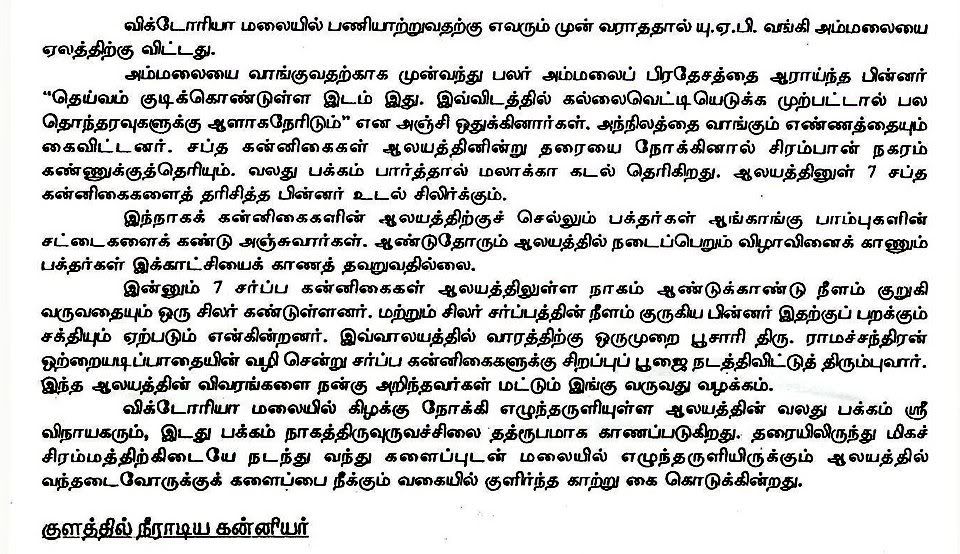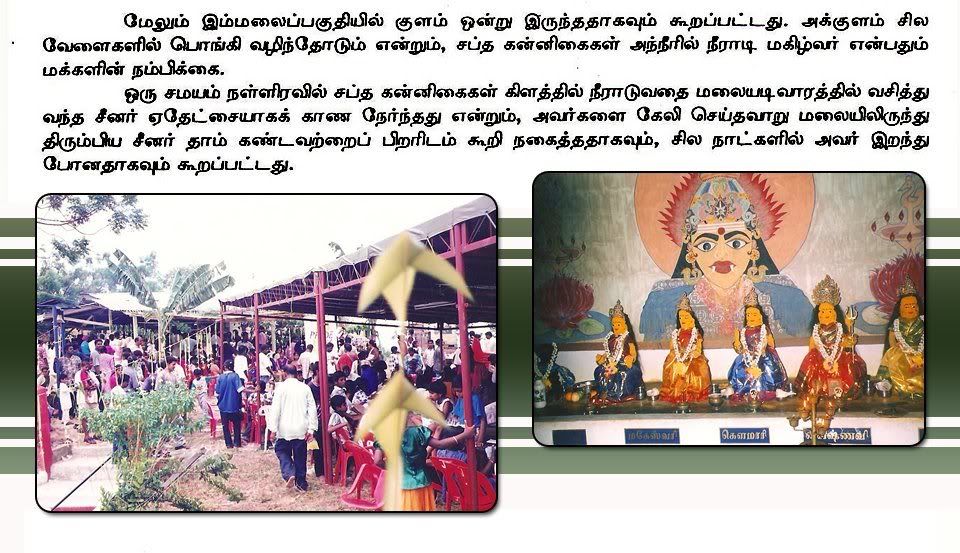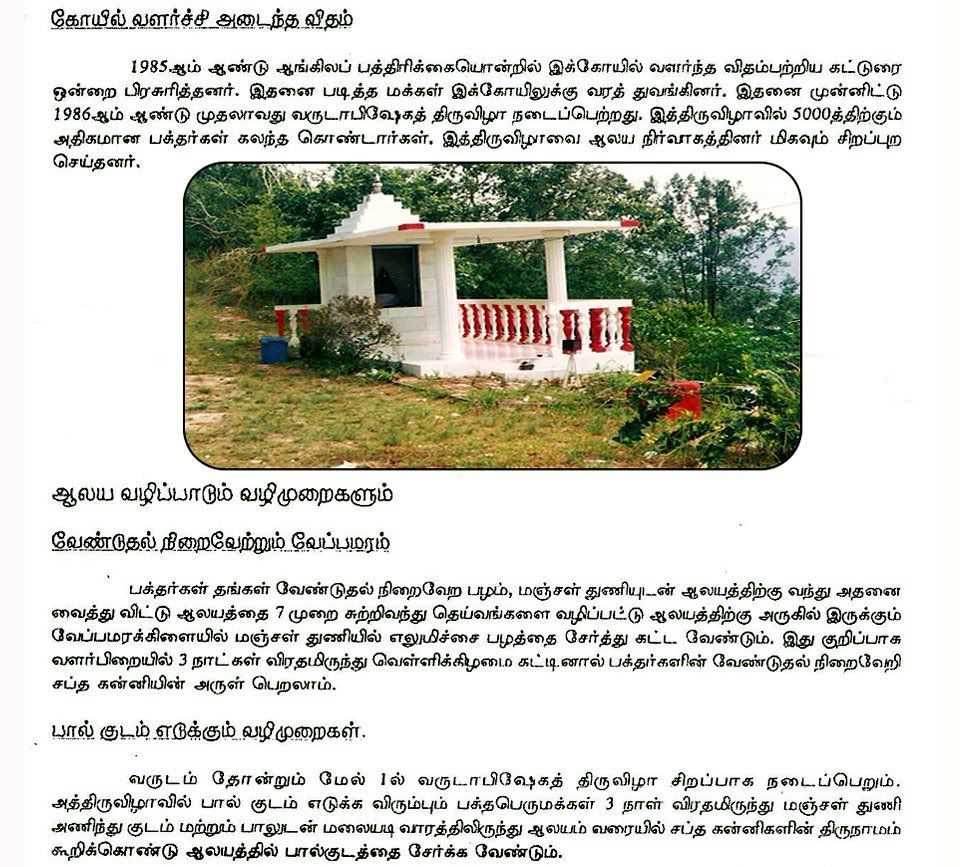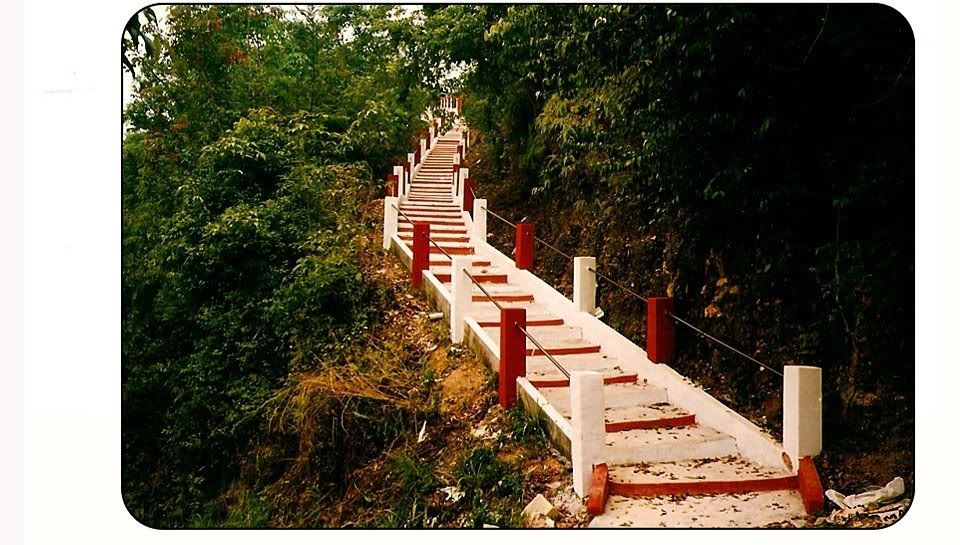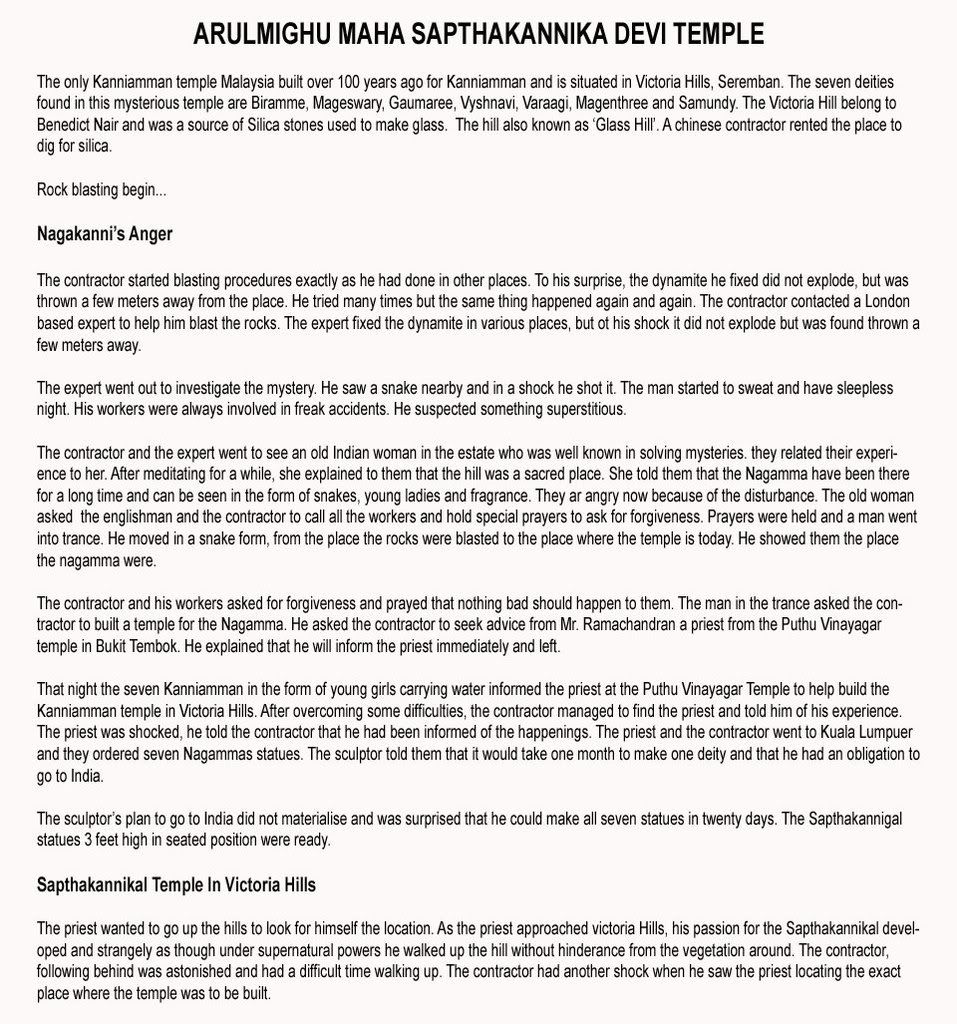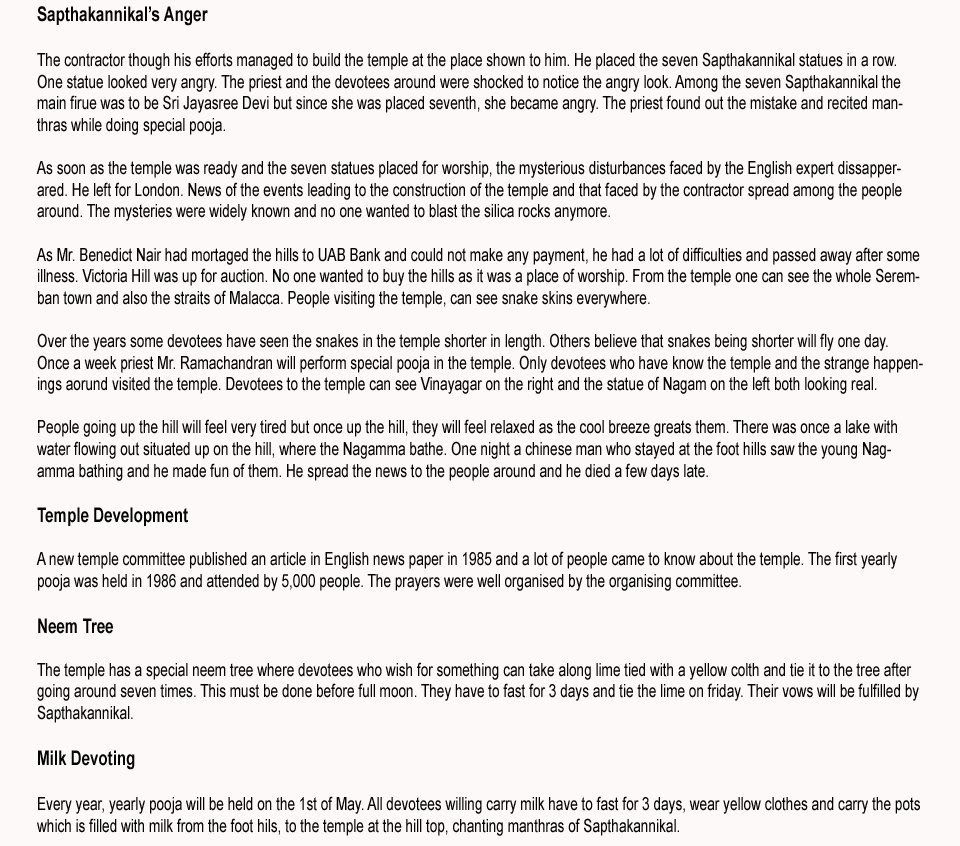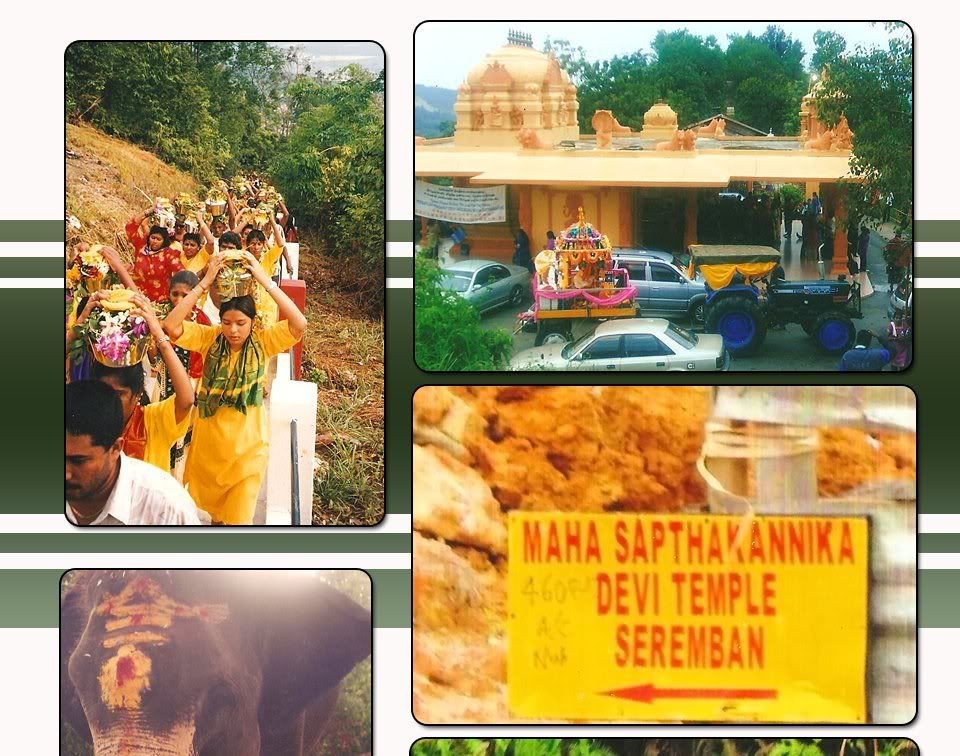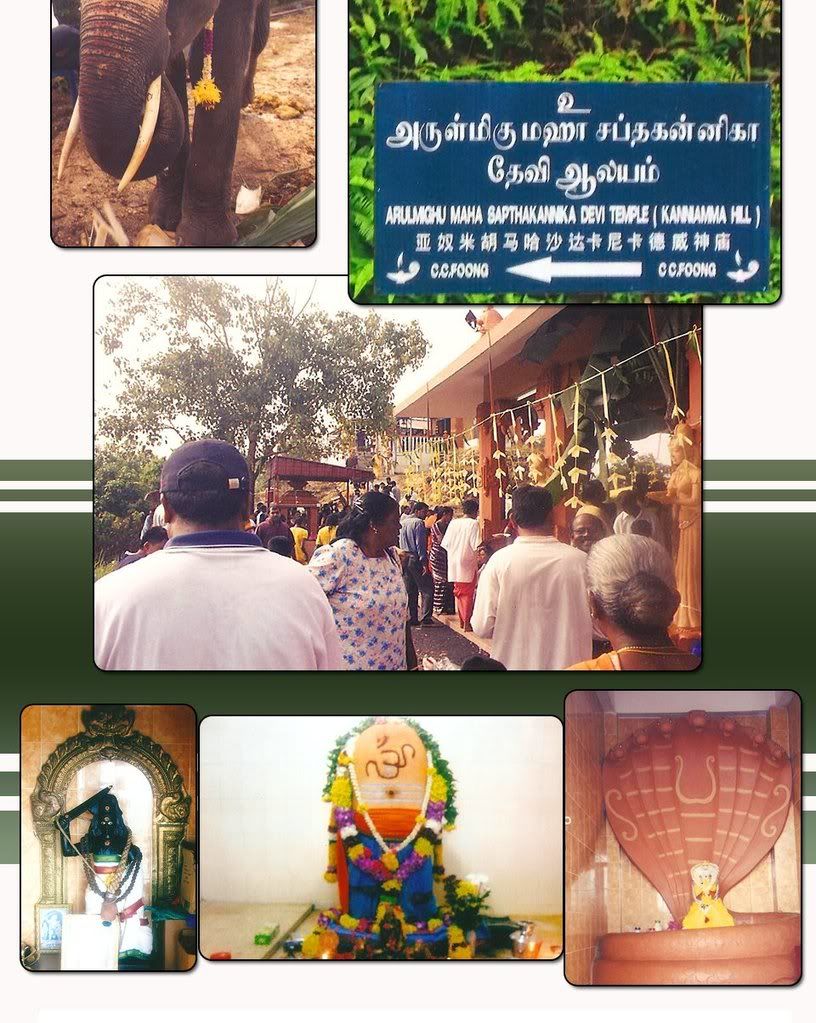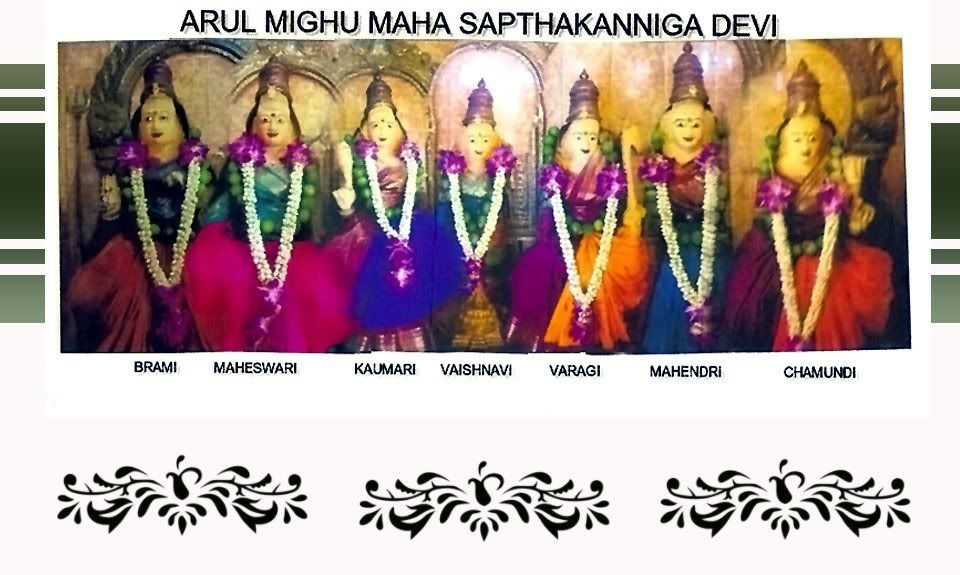 2012
ANJALI Cclender is
going to be on sale at
KANNI KOIL for
just RM 5.00 only. All HINDUS must have 1 Calender at home to seethe GOOD TIMES to do important things and also to see the important HINDU RELIGIOUS DAYS and Festivals
Please call the temple committee for further informations regarding the temples ongoing and upcoming events, and please email us at:
IMPORTANT FESTIVAL DATES

:
SIVAN POOJAI SUCH AS PROTHOSAM AND SIVARATHRI ARE BEING
CONDUCTED AT THE LINGGASWARA ALAYAM IN KANNI KOIL
Devotees can join the poojai and get the blessing of Appa Sivan

For those who are looking forward to provide help for the temple, you may also bank in the amount into the temple's account.The following is the bank account no: PUBLIC BANK 3128380309 or by cek to PERSATUAN PENGANUT DEVI ARULMIGHU MAHA SAPTHAKANNIGA & post to our office address : 116 BUKIT TEMBOK, 70300 SEREMBAN (your donation is most appreciated)
---