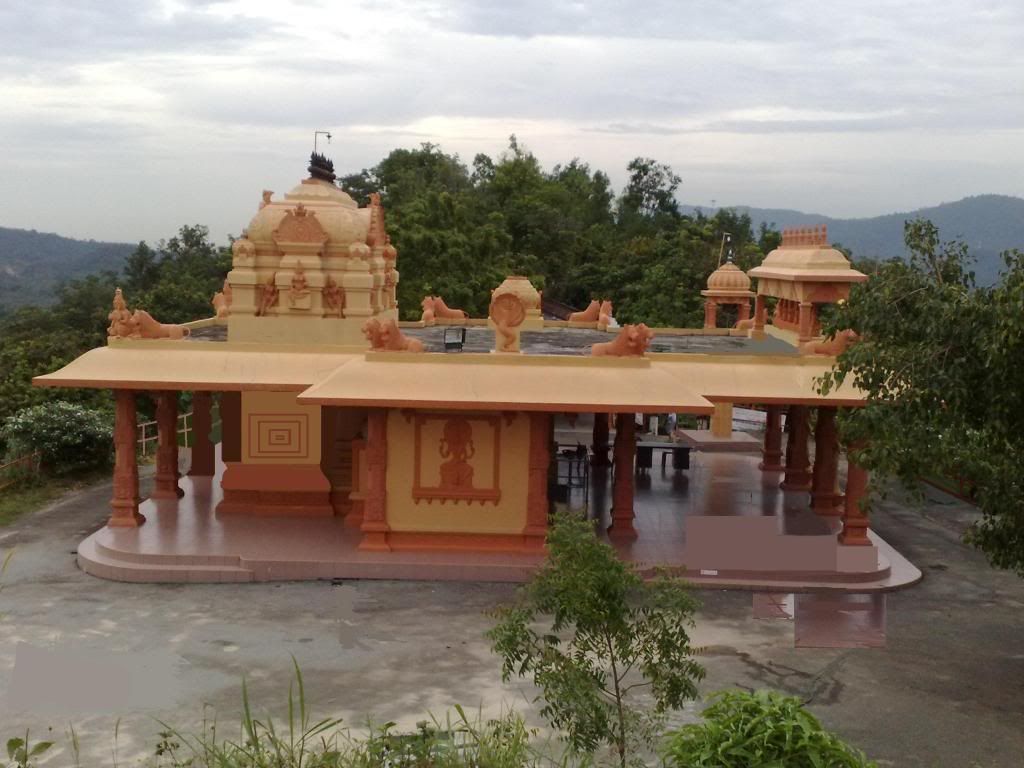 ARULMIGHU MAHA SAPTHAKANNIGA DEVI TEMPLE
well known as
KANNI KOIL
AND


NAGA AMMAH KOIL
SNAKE TEMPLE

SEREMBAN
NEGERI SEMBILAN

Seremban, Negeri Sembilan,
OFFICE ADDRESS

: 116 BUKIT TEMBOK,


For further information
Please call:
Mr. Rajen - 0196209259

[DIRECTION TO THE TEMPLE]
Take the flyover after the Seremban Labu Toll Plaza that goes to the Pusat Kualiti Alam/ Klia/ Sendayan and take a u-turn back at about 3 km at the Seremban 2 Heights flyover. After taking the U-Turn go straight towards Seremban and take the firsf turning on the left [Seremban 2/ Taman Oakland] After about 100 meters along the sharp corner you will see the signboard on your left to the temple. This dust road will lead to the ARULMIGHU MAHA SAPTHAKANNIGA DEVI TEMPLE [KANNI KOIL]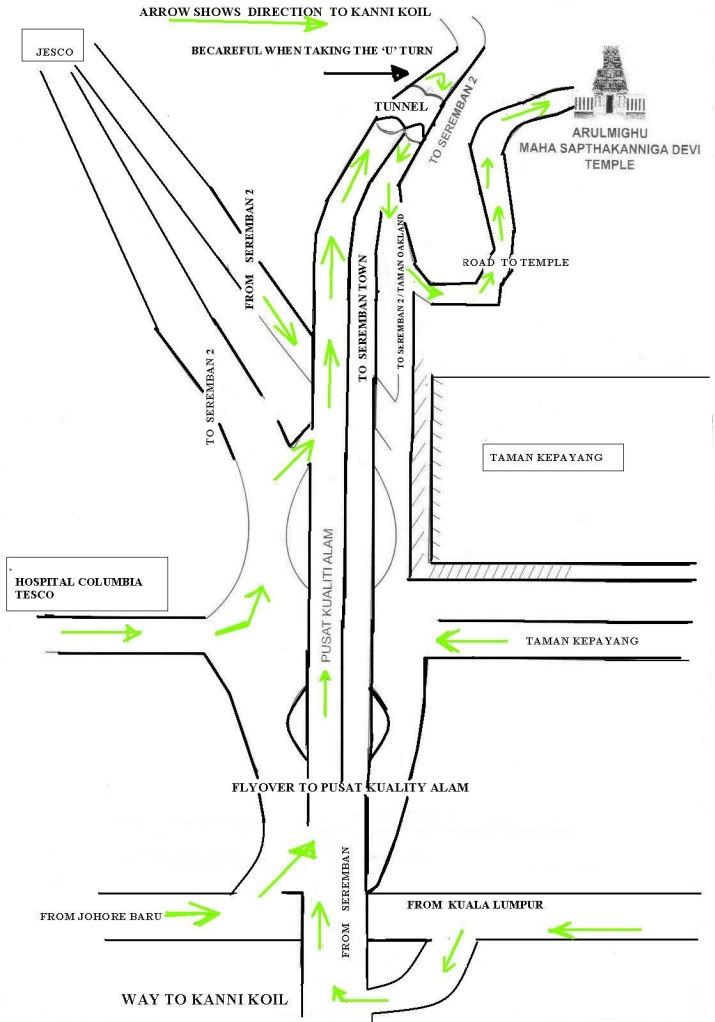 KANNI KOIL NEEDS DONATION FOR THE MAINTANANCE OF THE TEMPLE,
TO BUY THE TEMPLE LAND, PAY THE WORKERS AND OTHER EXPENSES
PLEASE KINDLY CONTRIBUTE YOUR DONATION TO THE TEMPLE.
PERSATUAN PENGANUT DEVI ARULMIGHU MAHA SAPTHAKANNIGA, by cheques or bank draft to our office address: 116 BUKIT TEMBOK,
Bank in to our current account at:
PUBLIC BANK a/c no : 3128380309.




Arulmighu Maha Sapthakanniga Devi Temple Festival:


01/05/2016
UBAYAM LIST

13/04/2016 Wed 3pm Ubayam by Dato Dr.Subramaniam Nachimuthu & Family
Vikasni Medical Service
14/04/2016 Thur 3pm Ubayam by Hema & Family, Seremban
15/04/2016 Fri 3pm Ubayam by Rajendran & Family, Seremban
16/04/2016 Sat 8am Ubayam by Parimala & Family, Seremban
16/04/2016 Sat 3pm Ubayam by Thayalan Geeta & Family, Sri Sendayan
17/04/2016 Sun 8am Ubayam by Prabagaran Nair & Family, Seremban Jaya
17/04/2016 Sun 3pm Ubayam by Devaraj & Family, Seremban
18/04/2016 Mon 3pm Kodi Yetarm by Temple
19/04/2016 Tue 3am Ubayam by Segar Kalaivani & Family, Bahau.
21/04/2016 Thur 8am Ubayam by Way Lau Peng ping, Jasper Tan kok wai,
Siah Li Li, Yerkes Yip Jin Hoe,
Winz Lim Wen San, Yap Swer Siang,
Lim Chee How, Chan Yan Ji, Chia Shia Chin,
Lau Qiu YIn, [GS Reality Sdn Bhd]
3pm Ubayam by Columbia Hospital Hindu Staff
22/04/2016 Fri 3pm Ubayam by Saravanan Selvi & Family,
Nan Auto Works, Senawang
23/04/2016 Sat 8am Ubayam by Mr. A M Anndaraju & Family, Kuala Lumpur.
3pm Ubayam by Tamil Selvam, Singapore.
Prem & Family, Singapore.
24/04/2016 Sun 8am Ubayam by Mr. Satis Kumar & Family
3pm ubayam by Nithya Malar Vengatraman & Family,
Kaliappan & Family.
Bathumalai & Family.
Taman Seremban Jaya, Seremban
25/04/2016 Mon 3pm Ubayam by Kalai Chelvan Bathumalai,
Mambau, Seremban.
26/04/2016 Tue 3pm Ubayam by Mr. Selvarajah & Family,
Shamala Puspaleela & Family
Taman Bukit Kaya, Seremban.
27/04/2016 Wed 3pm Ubayam by Mr. Venugopal & Family
Mr. Syed & Family,
Lukut, Negeri Sembilan
29/04/2016 Fri 3pm Ubayam by Saras Group, seremban
Sasitharan Sankaran & Family, Seremban.
Subramaniam Poongodi & Family, seremban
Sankaran Nair Kavitha & Family,
Transed Enterprise, Seremban
30/04/2016 Sat 3pm Ubayam by Al Elengo Kavitha & Family,
Olympia Elen Gym & Fitness Centre,
Seremban.
01/05/2016 Sun 7.30am Pall kudam
8am Yaga Poojai.
10am Abshegam
12noon Vesasa Poojai
12.30pm Anathanam






FOR INFORMATION ON EVENTS AND OTHER THINGS, PLEASE GO TO :
Events
7 talai nagamaah
BRAMI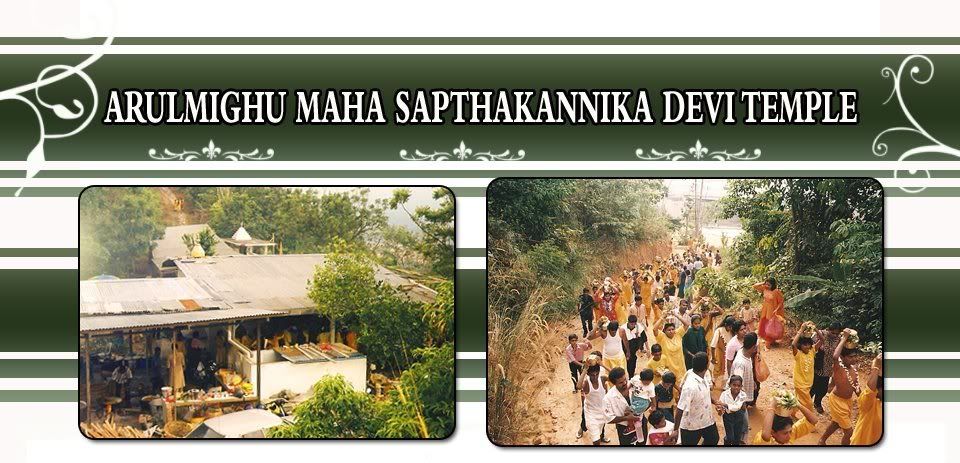 {Seremban, Kanni Koil - [Hill Temple]
History in tamil and in english below}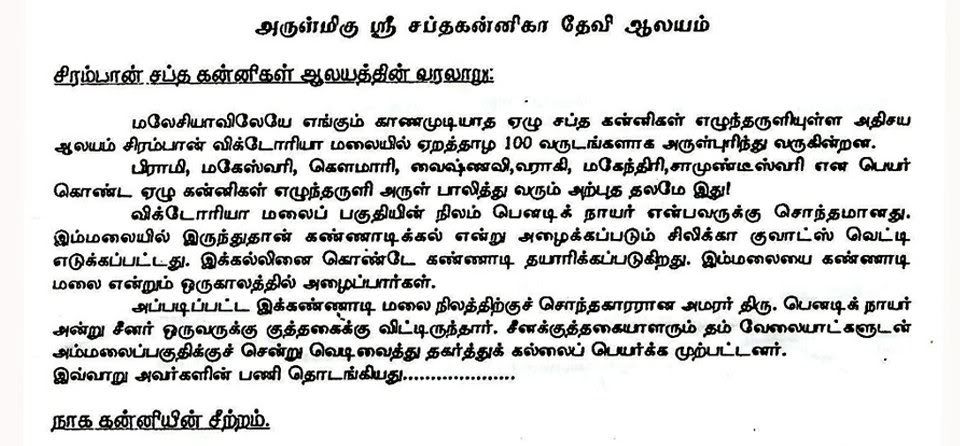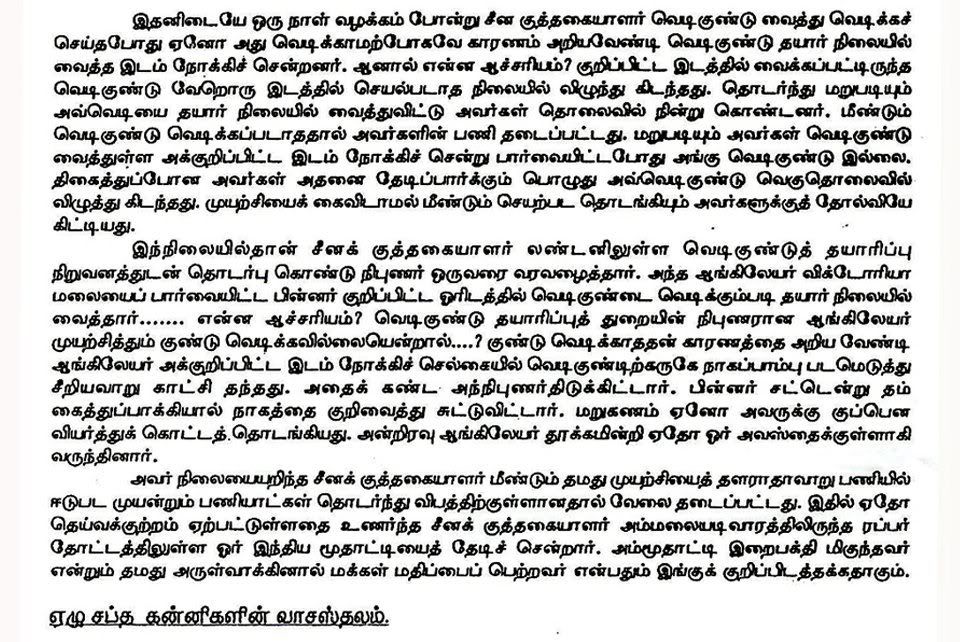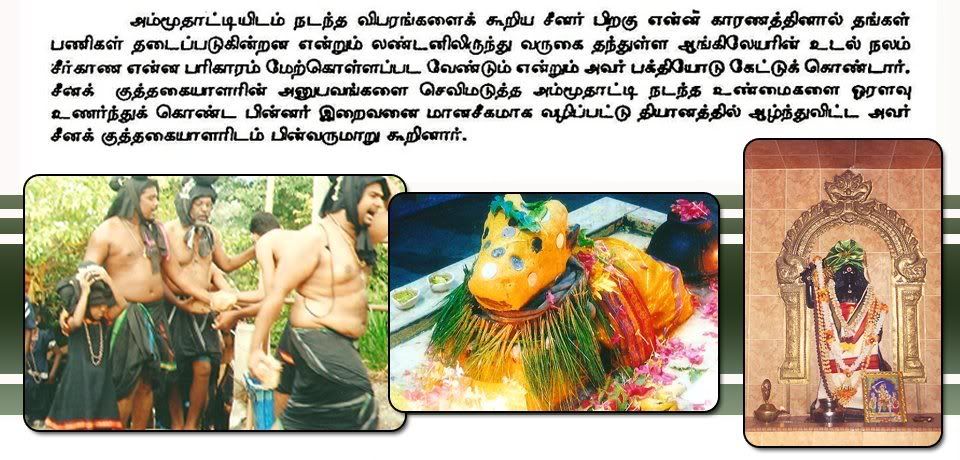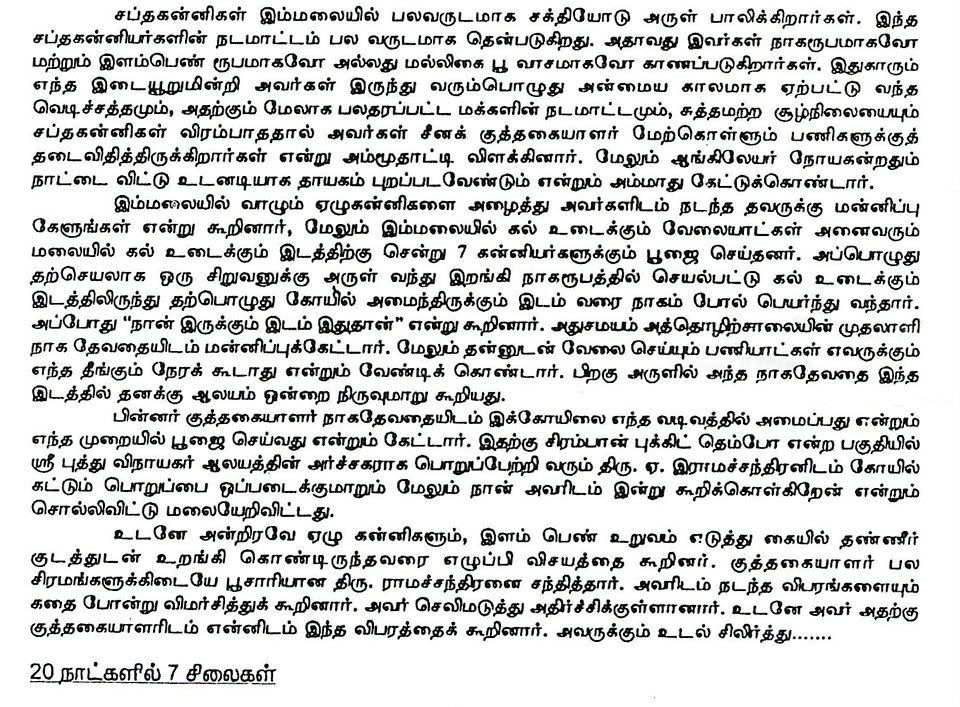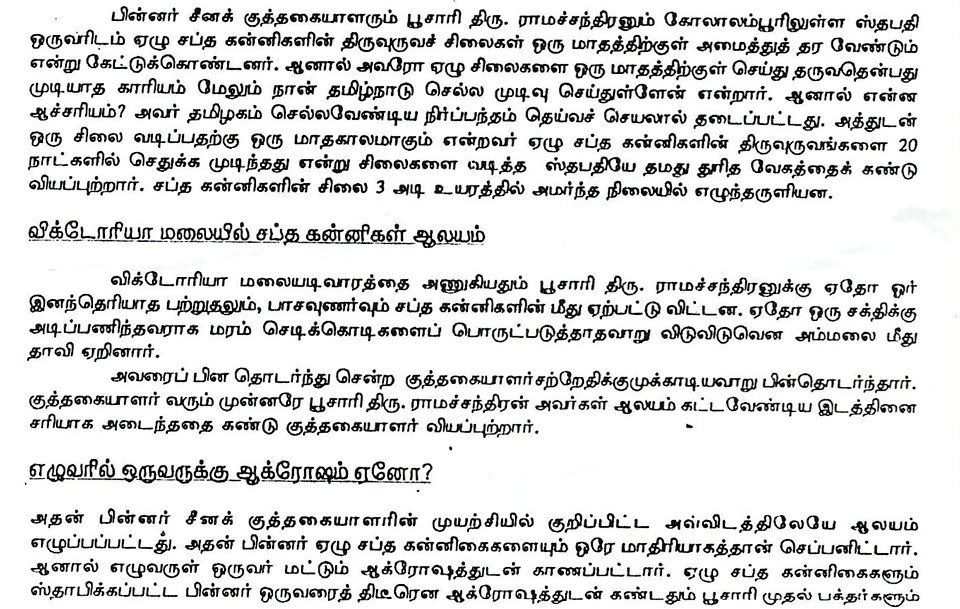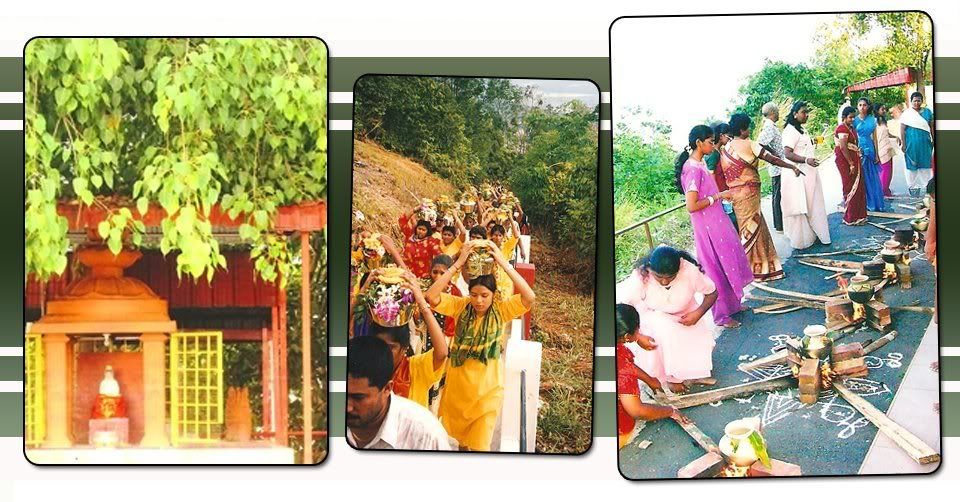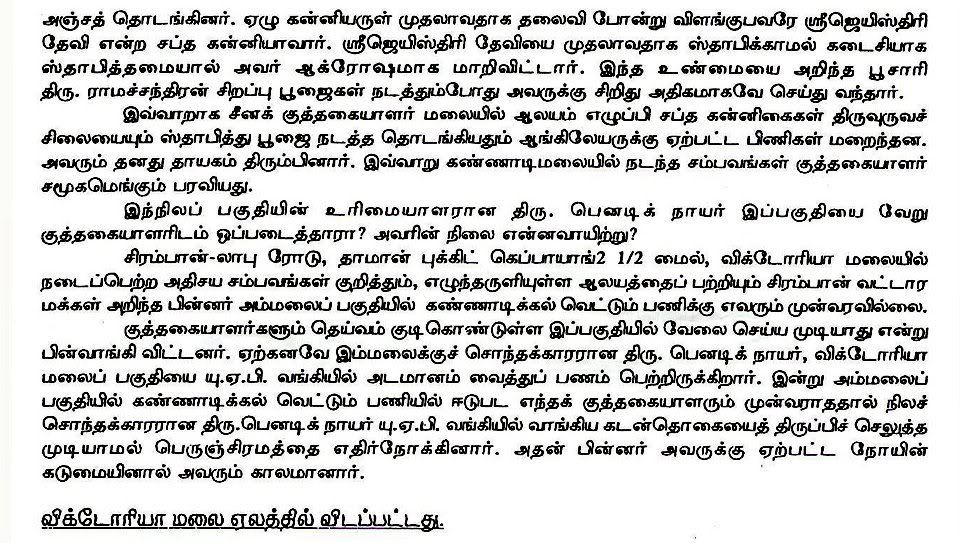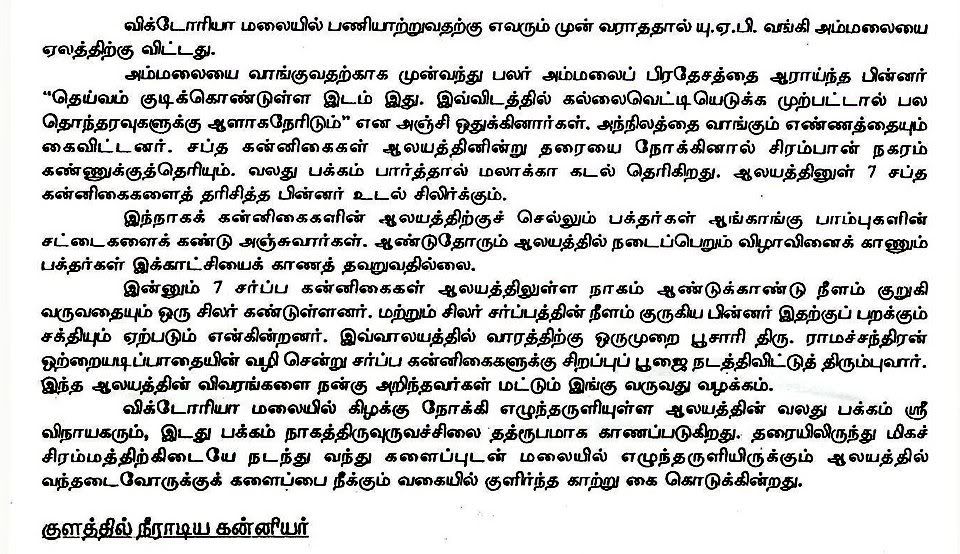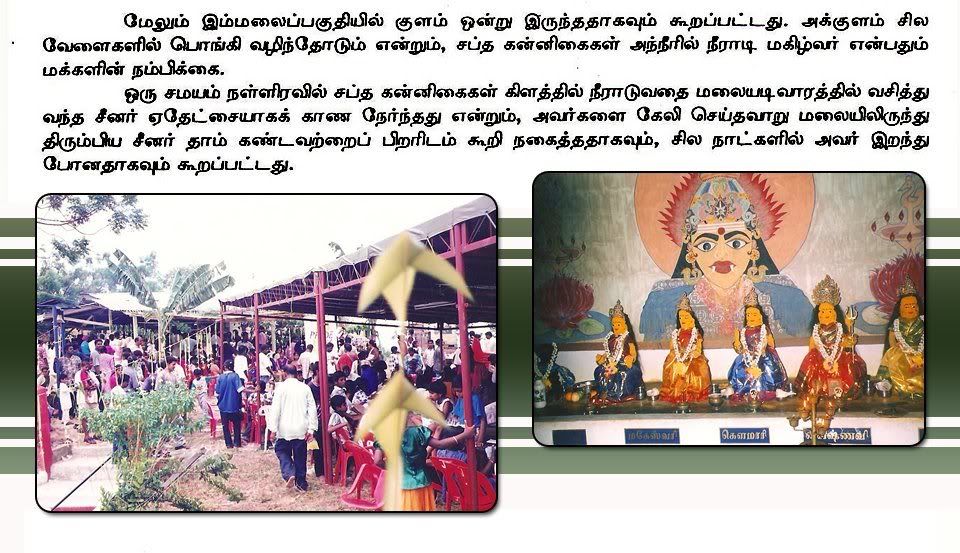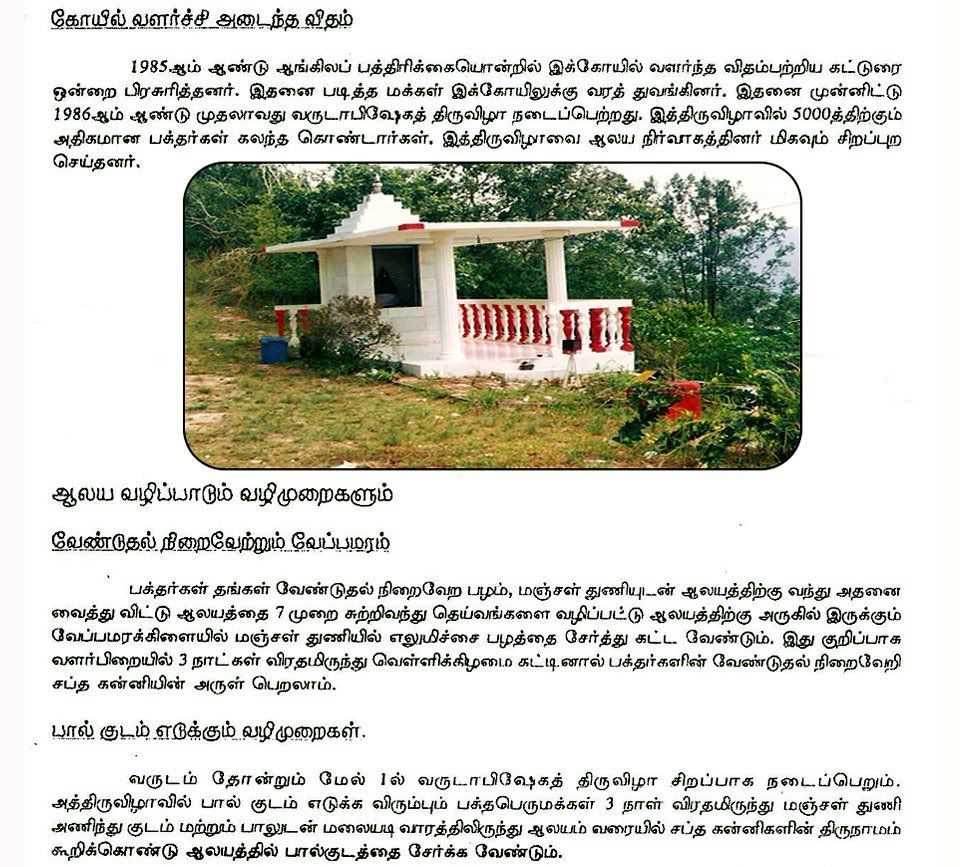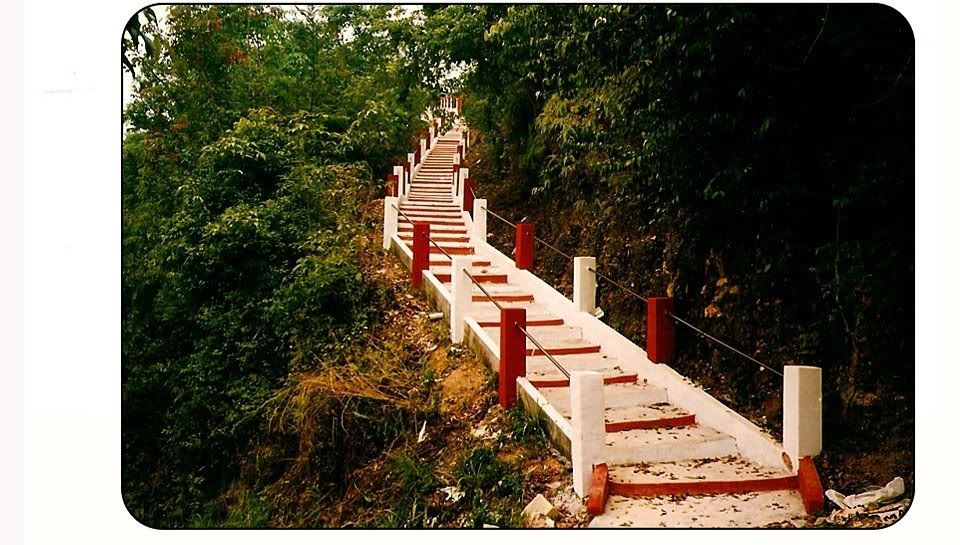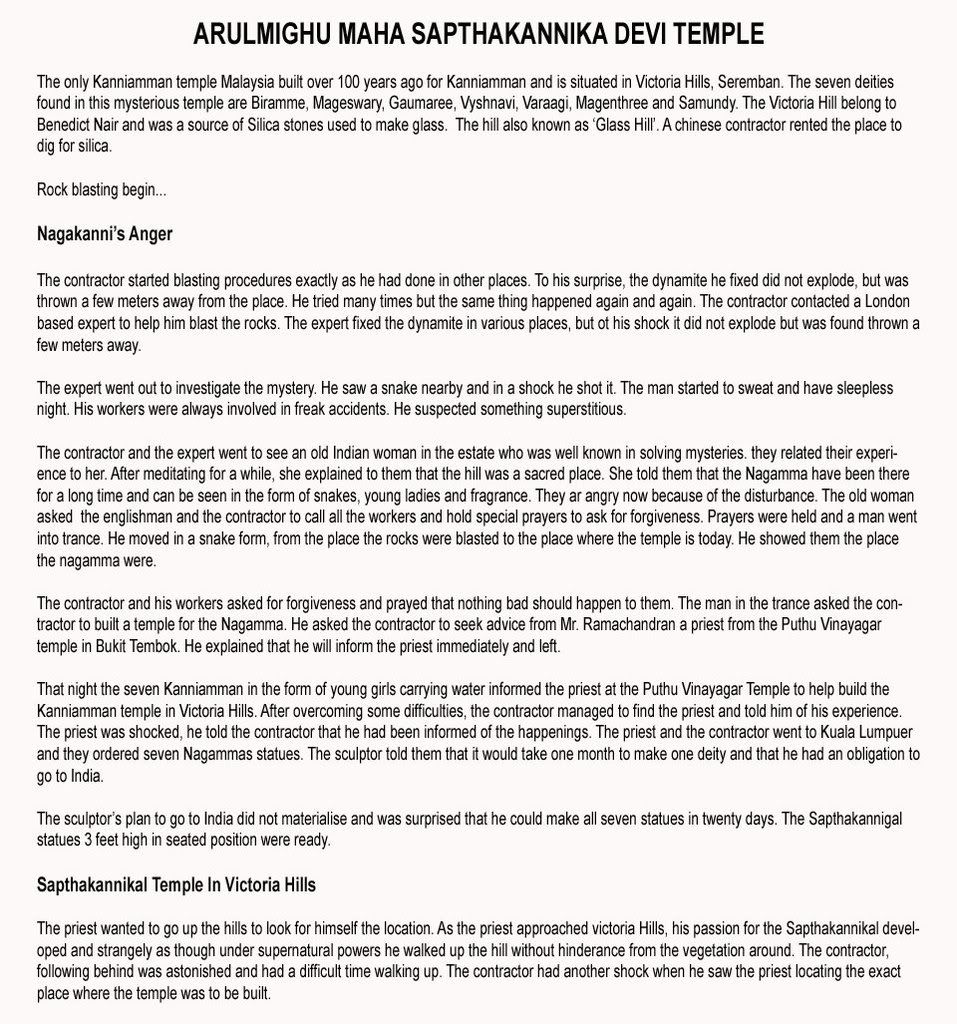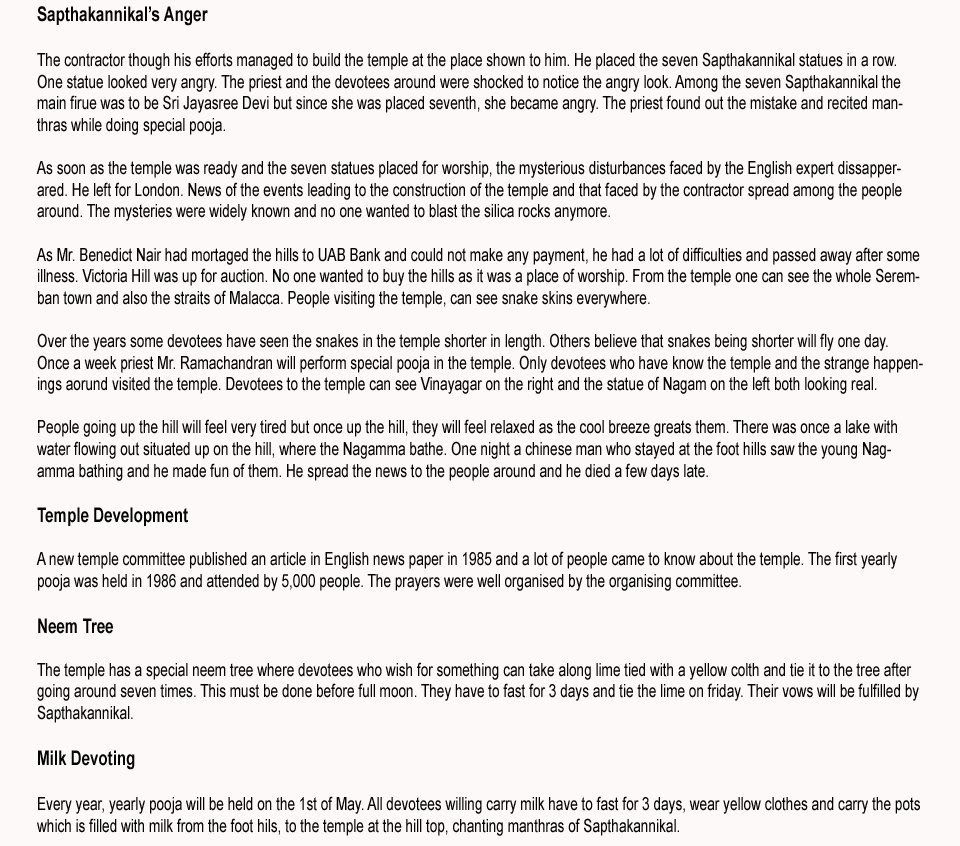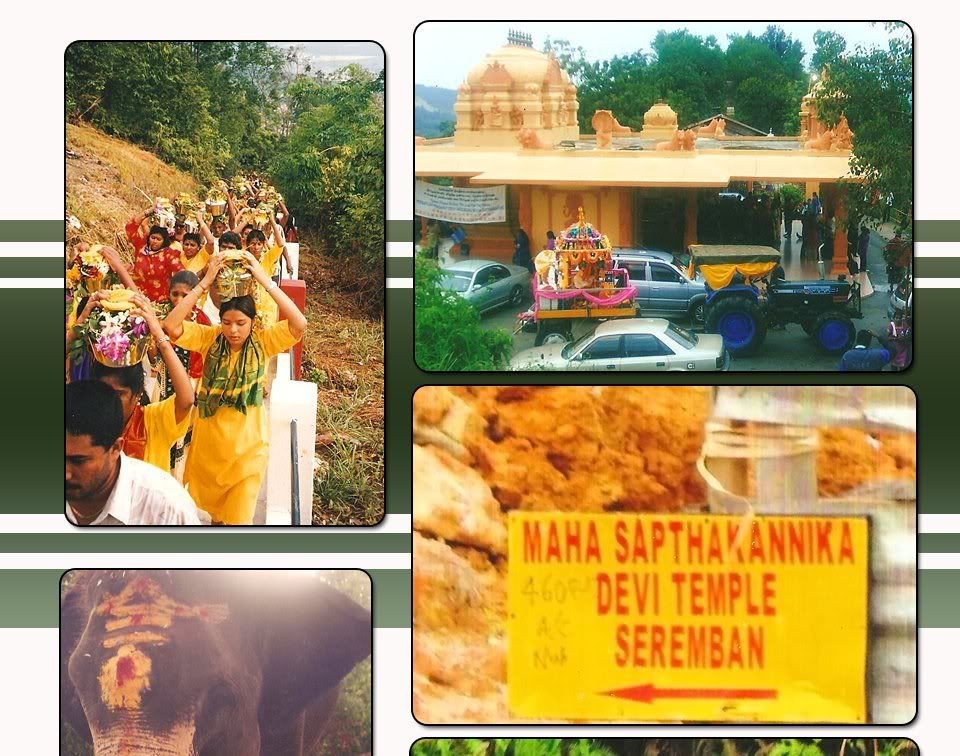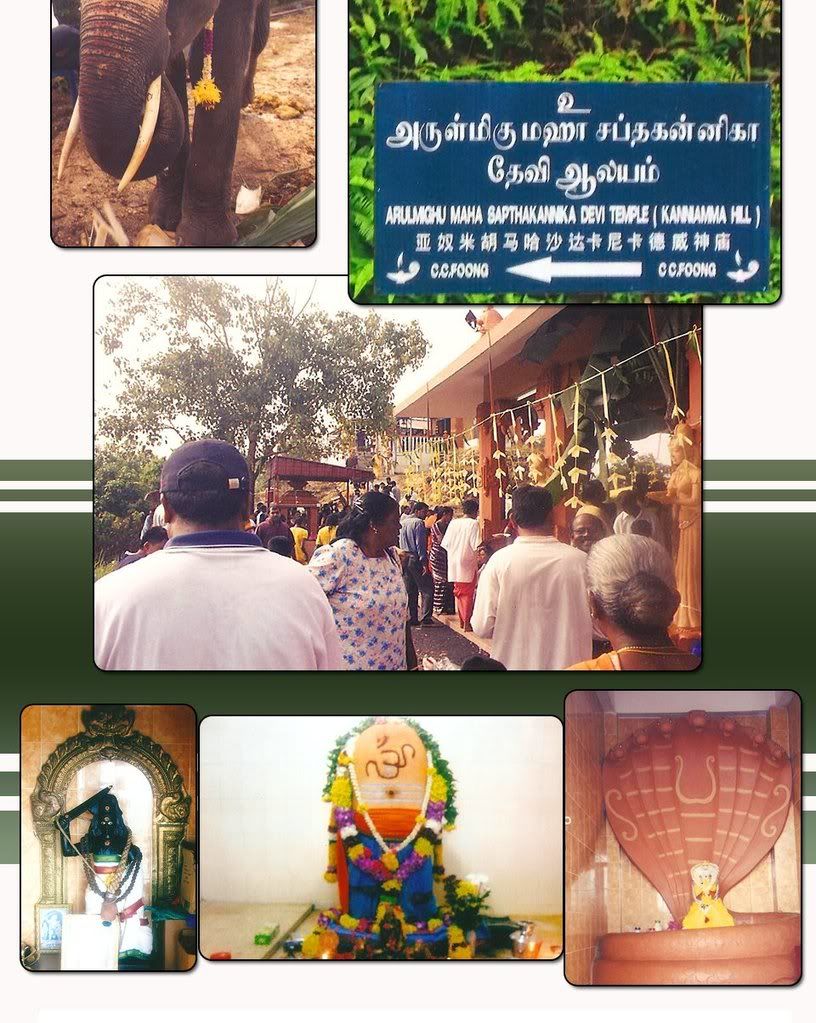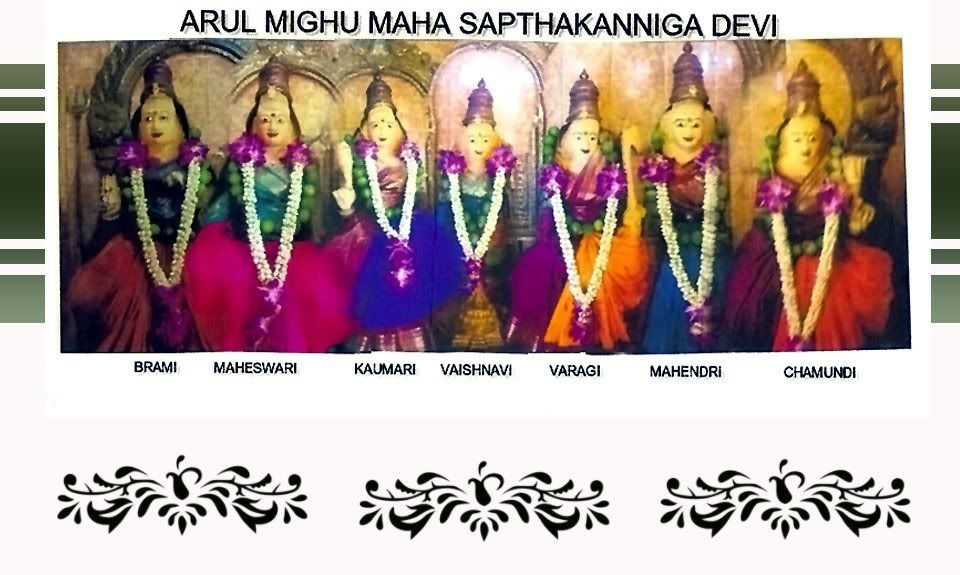 2017
ANJALI Calender is
going to be on sale at Kanni Koil
Donate to the Building Fund
by ordering your yearly
Anjali Calender
at
Sapthakanniga Devi Temple
and
earn RM 50.00 by selling 50pisc Anjali calenders

Please call the temple committee for further informations regarding the temples ongoing and upcoming events, and please email us at:
IMPORTANT FESTIVAL DATES

:
PROTHOSAM, SIVARATHRI

and
AMAVASAI
are being

conducted at the Kailasanathar Linggaswara Sanathi
at

Sapthakanniga Devi Alayam

Devotees have to register their name, nachatrian and rasi at the Temple. The Gurukal will read their names during the Sivan poojai and get Appa Sivan's Arul Kavasam for only Rm11.00 per Family

For those who are looking forward to provide help for the temple, you may also donate to the Temple Fund. Deposit your donation into the temple's account or cash at the Temple. Bank account no:

PUBLIC BANK - Current Acconnt 3128380309

or

by cek to PERSATUAN PENGANUT DEVI ARULMIGHU MAHA SAPTHAKANNIGA & post to our office address : 116 BUKIT TEMBOK, 70300 SEREMBAN Your donation however small is most appreciated
---